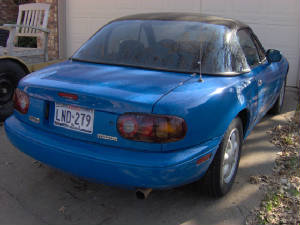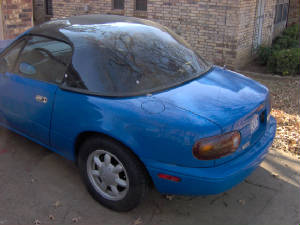 A What?


You may never have seen anything like this.
You've certainly never seen anything like this for your Miata.
A Bubbletop is a see-through plastic "bubble" that works like a hardtop- only better.
You get the best of a convertible- and more: unique style statement, driving sensation, economic sense, safety and security.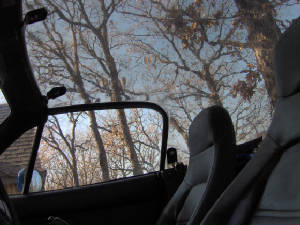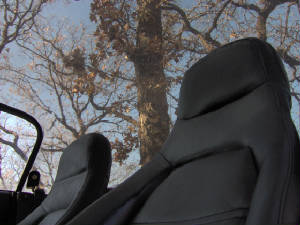 Sensation, Sense and Space

You have an all-around open sensation, just like when your top is down. But you get to stay out of the wind: which means your hair doesn't get pulled out. It's quiet; so you can listen to the radio, talk to your friend next to you, talk on the phone- and be heard without yelling. You stay airconditioned or heated.
You just have to experience it for yourself.

Other than new sensations, there's the styling. Your Bubbletop really looks cool on your Miata. No one has ever seen a production bubbletop, because there never was one before. They've all been one-off custom cars- hot rod show cars- like those from Ed Roth: or the Presidential Limousines. GM announced one for the 1954 Corvette, but they only delivered 3.

You get the security of a hardtop- better than leaving the top down, better than putting your fabric top up. Because you can see all around- better peripheral vision- you can be a safer driver. That's a good feeling, too.

You may find your Bubbletop is the only top you'll keep on your car. But when you want to change tops- it's easy. Unless you're using one of the heavier steel or fiberglass hardtops. Then you will need a friend. And, be careful not to damage your car or that heavy top.

As with other hardtops, your convertible top stays folded under your Bubbletop.

With used steel and new fiberglass tops going for over $1,000.00, a Bubbletop makes financial sense. (And you don't have to paint it!) You could even spend more replacing fabric tops. In addition to sensation and style; the Bubbletop has more space- more headroom and more real parcel room. Miata is a small car. You know inches matter. You'll find a way to use them.


Why it Works

Your Bubbletop is a durable acrylic. It comes in a smoke color to match the factory window tint. And It also has a UV (Ultra Violet) filter; which cuts down on the heat, the sunburn and the harmful part of sunlight. You will enjoy the warmth in the Fall and Winter. Your Summer comfort will depend on the heat in your region, and your personal comfort needs. You will want to have your airconditioning working properly for Summer. You can use your Bubbletop all Winter, but be careful not to scratch it with a snow scraper.

No, a Bubbletop is not as rigid and durable as a steel top. It does resist small dents and hail damage. It will protect you and your stuff better than a fabric top. The Bubbletop is much lighter than steel or fiberglass. About 20 lbs. It is not as fragile- or as heavy- as glass. While the clarity is not as good as glass: you don't drive looking out the roof. Visibility is unobstructed all around, and clarity is better than the flexible vinyl of a convertible top.

There is very little maintenance other than supervising the fit, to make sure that the brackets are properly fastened in use. Minor scratches can be polished out. (The owner's manual is available in advance of purchase.) We have found that the flexible suction cups on signs and sunscreens 'crystallize' the acrylic. We don't know why. It could be chemical. You'll just have to remember not to use them.

The Bubbletop is not for racing. Speeds over 80MPH specifically void your warrantee.

*****




Top Ten Reasons to buy a Bubbletop:



See what it's like to get rained on- without getting wet.

Your cat can sleep on it, it won't sag.

See what it's like to be under the snow- and not get cold.

See your coffee on the roof before you drive off.

Check out the bugs while they can't get to you.

See the downtown buildings without getting dirty.

See the downtown buildings without getting your stuff stolen.

Check out the chicks. (Birdwatching. What were you thinking?)

You don't need a friend to help you lift the bubbletop on or off.

Maybe you've already bought too many fabric tops- or vinyl windows.

Maybe you don't have $1,500 to buy and paint a steel top.

Every day you drive it, someone will smile and say something nice about it.


(OK, that's more than ten reasons)


*****



Things to consider in buying a Bubbletop:


It's not optically perfect. It is better than a vinyl back window.
All-around visibility is similar to 'top-down'.
Because the whole assembly is somewhat flexible, there is are specific instructions about how to achieve optimal fit and sealing on your particular car. You must read the Owner's Manual, and follow directions. Some attention and supervision is required for use.
You can scratch or scuff a Bubbletop. Minor scratches polish out. Wash by hand with clean towels or sponges- mild soap only- and lots of clean water. 'No touch' automatic washes only. No brush washes.
Cold weather is no problem. You can use your Bubbletop all Winter, but be careful not to scratch it with a snow scraper or brush.
When the outside temperature is over 90 degrees, You'll want your A/C working properly. Using your Bubbletop might be seasonal in your area. (Fall, Winter, Spring- partial Summer- for example.) Some people tolerate heat better than others. Evaluate carefully for cars with no A/C.
Remember, it is easy to take on and off.
It is fun.
A Bubbletop will increase the value of your vehicle.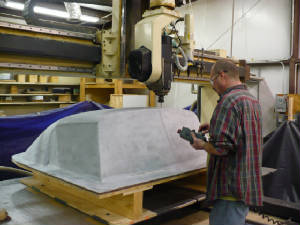 About The Company

Bubbletop.Biz- the business- is built on enthusiasm for the products, and comraderie with the community of owners.

Future projects include various tools and tool accessories, a new battery safety device, and the Toyota YJ.




*****

All copyright 2017, Jonathan Mark

*****